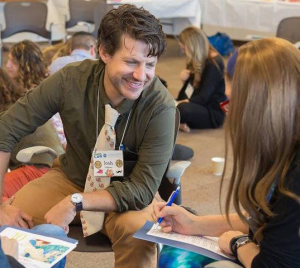 Where do you live?
Los Angeles
What are you listening to this week? (music, podcasts, etc.)
A lot of an electronica group called Mum. It's got a good vibe and is helpful in both productivity and life mindset. I also love the podcasts "Radiolab" and "On Being".
What's your current profession / project / passion?
I'm the director of the Springboard Fellowship, a project of Hillel International, which seeks to launch the careers and ideas of early career professionals, with 0-3 years of work experience post-college. Hillel is based in Washington DC, but the Talent Team that I'm a part of is spread out across the country, so almost all of our work is done remotely.
My passion is at the intersection of Leadership Development & Creativity. There are huge and exciting challenges that face human beings in the 21st century, and I really truly believe that helping all of us invest in our creativity — and invest in each other — is how we can solve those challenges. I believe that people are the experts in their own lives and that if we can be of service in helping them harness that, then incredible things are possible.
What are some recent examples of your work that you're most proud of?
This July, we launched the Leadership Development program that I direct, the Springboard Fellowship. Twenty early-career professionals met at Hillel's HQ to make prototypes, learn about human-centered design and explore what it would mean to create more inspiring and creative communities on college campuses across the country. I felt immense joy to be part of the trajectory of these emerging leaders of the Jewish community.
We hope and believe that Hillel investing in the creative potential of young professionals will create a whole new talent pipeline in the community.
Describe your creative process.
Design
I do a lot of pacing.
I then am a little bit of a cliché of design thinking work in that there's a lot of Post-It notes
I engage in a feedback rich process where I speak to a lot of people and get feedback
Pondering
I try to live in the world of big "How might we?" questions as much as possible. I ask questions such as:
"How might we create experiences that are radically about rest?"
"How might we help create vibrant communities where everyone feels heard?"
"How might we harness the power of cultural specificity to create a more peaceful world?
Testing & Prototyping
Once I get through the above steps, I test the assumptions – I don't want to use a hammer when the right tool is a screwdriver!
I make this all concrete – go from an open pond to a well-focused plan.
This plan then enters the prototype process, where we try something but acknowledge that we'll probably need to change it.
Stir and repeat.
Creativity
Parallel to all of this…having a personal creative process is key to my professional work
I like to do "Creativity Pushups" — Seeing what type of creativity comes out in 5 minutes or less
Which tools, products and services do you use in this process?
ANALOG
DIGITAL
Slack is a really effective communications tool for our Hillel team
Zoom is just the best for video conferencing
Google Apps collaboration suite works great for our documents
What is one major benefit do you get from technology that you can't imagine creating without?
I don't have a great memory, so my smartphone is the keeper of my information, allowing me to be more focused and present on the tasks at hand at any given moment.
What do your colleagues / collaborators always want to do manually / analog that you wish they would automate / design a system for?
I'm going to re-direct my answer a bit…I really do believe that digital tools are constructive to our work…but one thing that I've yet to make stick digitally is To-Do lists. Paper is the best for me here.
What do you do when you need a break from screens?
I garden, hike, play with my kids, and try to learn the ukulele.
Also, sometimes I make a phone call or schedule an in-person meeting instead of relying on Skype for Business. There are some conversations that are better voice-only or face-to-face instead of video chats.
Anything you want to add on the relationship between creative work and tech?
We live in the most disruptive time in at least the last several hundred years, technologically. There's huge room and space for creativity, but we all have to admit that this is a large period of experimentation. Books, in their current form, evolved slowly. Just like books, we need to give ourselves permission to allow technological tools to develop so that they serve us, rather than serving their makers. We need to ask questions like "What do we want life to be like?", and influence design from that perspective, not the opposite.